"I recently commissioned April Johnson to paint portraits of my two stallions. The paintings are amazing and truly reflect both horse's beauty and athleticism along with their personalities. It is an honor to have them hanging proudly in my home."
-Helen F Frederick
GCH Komars Smok N' Denali aka Lily
16" x 20" Hand rendered, acrylic & mixed media on canvas 2020
"I commissioned the very talented April Johnson to do a portrait of our beautiful Lily GCH Komars Smoke N' Denali. When I saw it, it took my breath away."

- Sondra Marcus
Rufus
20" x 20" Photography printed aluminum metal print
"April is not only talented with her eye and lens, she has a unique gift for capturing the best characteristics of my Cavalier Spaniels, both their beauty and personalities. Plus April has been blessed with dog karma...they all love her! I attribute the success of my website to April's amazing portraits of my dogs. I consider myself fortunate to have been given the opportunity to work with April."
-Susan Fitzmaurice, Honeybee Farm Cavaliers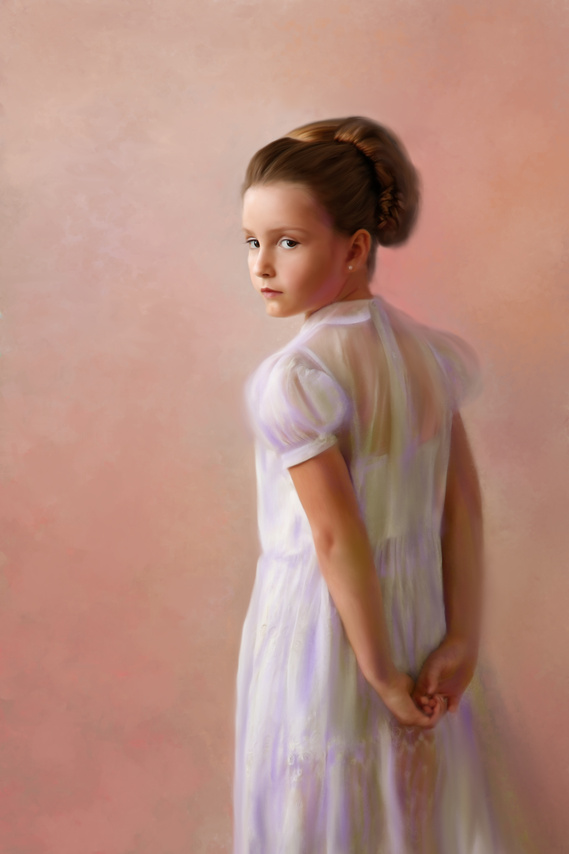 Beautiful Ginevra
19" x 24" Hand rendered, acrylic & mixed media on canvas 2020
April has captured more than an image of our daughter. She captured emotions and details that we will always treasure. April has a tremendous talent to see beyond the lens and brings her subjects forward with her artistry and eye for color. Our daughter's portrait is a gorgeous piece of art on our wall.
- Shawn Piantoni

Sweet Zella
24" x 20" Hand rendered, acrylic & mixed media on canvas 2020
"April captured a "moment in time" for our family with our beloved dogs several years ago that we will forever cherish! How she does it, is truly her gift! She was able to photograph three adults, two children, and four dogs in remarkable images! This was a gift for my husband, capturing his children, grandchildren and our beloved dogs. Since this photo session, we have lost three of the four dogs, and grandchildren have grown. Time passes on, but April gave us a gift that lasts a lifetime! We are forever grateful to April for her special talent and this gift of love and lasting memory!"
- Cathy Chumbley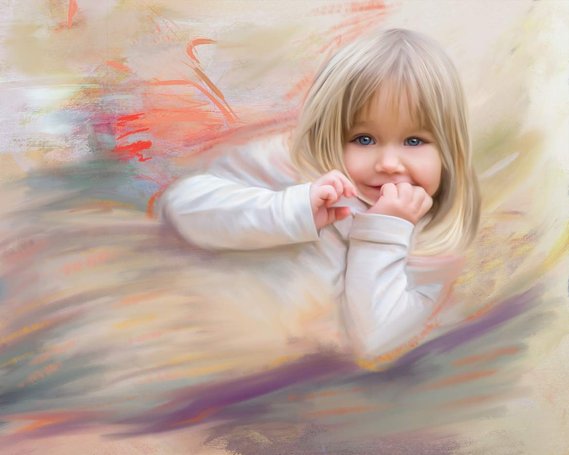 Owen
17" x 25" Hand rendered, acrylic & mixed media on canvas 2020
"The painting was from a photoshoot to capture my two aging dogs, that have always been a part of Owen's life. April's work is such a gift. The photos she took and the painting she made from this photograph are so special. She captures the spirit of the moment and the character of the people and the animals that are her subjects."
- Karen Reynolds
Swiffer
16" x 20" Hand rendered, acrylic & mixed media on canvas 2020
"We cherish Swiffer's painting. You are beyond talented!"
- Diane Bauman
Edgar, The Sincere Cavalier

24" x 36" Photographic print on Fine Art Paper
"Words cannot express how impressed I am with the quality of April's photography and painting of my very special boy, Edgar. I absolutely loved the painting of the photo of Edgar as it brought out a whole new dimension to it. I loved working with April while I was at a dog show no less and she captured the absolute best photo ever of Edgar along with several other shots I treasure. April is a pleasure to work with and a most excellent photographer who captures the character that her camera is aimed at! I highly recommend her!"
- Sharon Utych, The Finnicky Skye
Lovely Jayana
19 x 23 Hand rendered, acrylic & mixed media on canvas 2020
"April is brilliant! This painting is breathtaking! I'm truly in awe of Jayana's painting. This painting gave my daughter a huge smile. I love it!"

- Angela Williams